It's no secret by now that Facebook has been well and truly monetised. Each and every user of the world's number one social media network is eligible to see around 1,500 ads a day, depending on how long they spend online, and Facebook's new Explore Feed hasn't changed much for most users – there's just too much spam!
Engagement bait – what is it and why is it used?
Good marketing shouldn't feel like marketing at all, and should make users want to voluntarily engage. Bad marketing wheedles, barges and forces its users to get involved, and engagement bait is a key example of this. Despite Facebook's long-standing rule stating that personal timelines and friend connections shouldn't be used for promotional purposes, engagement bait's become more and more popular, in all its forms.
Recognised types of engagement bait on Facebook
Tag baiting (Tag a friend to be in with a chance to win an artisan beer!)
React baiting (How do you feel about the new iPhone? Use emojis to tell us!)
Vote baiting (Do you prefer red or blue? Use smiley for red and sad face for blue!)
Share baiting (To be in with a chance, share this post publicly with friends!)
Comment baiting (Tell us how you'd spend your night and you could win!)
Obviously, the idea is to get users to do the work for brands, actively getting their ads in front of (often unwilling) friends, family and others and maximising organic exposure – see example below: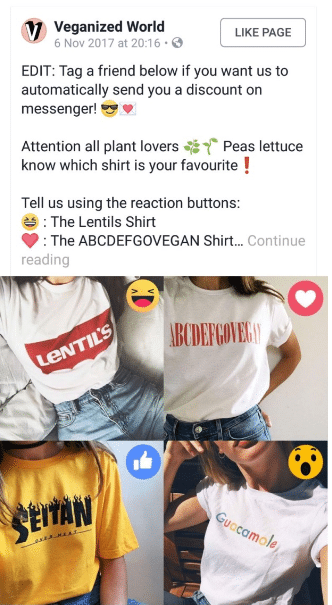 Well, this annoying trend should soon be no more.
Why and how are Facebook cracking down on engagement bait?
"People have told us that they dislike spammy posts on Facebook that goad them into interacting with likes, shares, comments, and other actions. For example, "LIKE this if you're an Aries!" This tactic, known as "engagement bait," seeks to take advantage of our News Feed algorithm by boosting engagement in order to get greater reach. So, starting this week, we will begin demoting individual posts from people and Pages that use engagement bait."
They're taking it pretty seriously, too – they've actually created an automated machine model which can detect variations on all the above types of baiting, so it won't just be a case of 'How do we re-phrase 'tag a mate' so it doesn't sound spammy?'
What does this update mean for brands
Essentially, they've just got to get more creative. Facebook say that pages which post 'authentic' content won't feel the squeeze (despite progressively lower organic reach rates for everyone over the last few years).
It's inevitable that, as Facebook releases new features, certain brands will just find new ways to spam, but the real creatives will just improve their ad quality and targeting methods.
Ality's recommendation?
Video, video, video. Figures show that video is definitely a key digital trend for 2018, and users engage better with video than almost any other type of content. Including blogs. You've probably all stopped reading and are off watching a video somewhere.
Want to maximise your Facebook reach without penalisation? We're always here to help – contact us.